Ancaster
Yingying Huang
Yingying Huang began studying piano at the age of 4, and is now completing her ARCT certification under Naomi Wratten in Brantford. She has competed in the Brantford Kiwanis Music Festival yearly since 2013,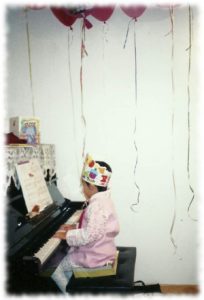 and also in the Norfolk Musical Arts Festival since 2008. From these she has won various awards, such as the W. Ross MacDonald Trophy for Associate Piano and the Norfolk Musical Arts Trophy for top instrumentalist.
Yingying has also performed as a part of the Young Artists Recital at the Brantford Sanderson Centre. She loves playing collaboratively, whether it be duets, quartets, or other, and believes it is the highlight of music.
Brantford
Kendra Perras
Kendra Perras started playing piano at the age of 3, under the direction of Naomi Morrison.  By the age of 4, Kendra was competing in the Brantford and Norfolk music festivals and has been awarded many scholarships and trophies. She has participated in the Brantford Canadian Showcase since its inception, where she entered 2 original pieces of music. She has played several times alone and in duets at the Stars of the Festival and Highlights of the Festival. In October 2016, Kendra performed a concerto with the Brantford Symphony Orchestra at the Sanderson Centre. In May 2017, Kendra won the Markwell J. Perry Trophy for Piano Grade 10 at the Brantford Kiwanis Music Festival. She has completed her Advanced Rudiments in Theory and her grade 8 piano, achieving honours with distinction. Kendra is working toward her grade 10 piano.
When not playing the piano, Kendra enjoys playing competitive basketball and soccer.  Kendra is an alter server at Sacred Heart Catholic church in Paris. In June 2016, she was awarded the Catholic Student Leadership Award and was voted Valedictorian for her grade 8 graduating class at Holy Family School. Kendra currently attends St. John's College.
Kendra is the co-founder of the Bee with Nature Camp; an organized program for children ages 5 to 11, promoting environmental awareness, the importance of bees, and the study of nature. Kendra also loves travelling and helping her local and global communities. Learning from others, doing for others and sharing her experiences are ways she feels that she can make a difference.