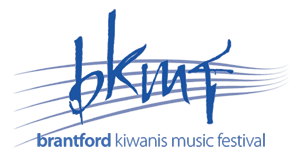 This year marked the seventy first anniversary of the Brantford Kiwanis Music Festival and the students of the Twinkle Strings Suzuki School were there making us proud. Our students' received marks mainly in the mid 80s with a couple as high as 90. We had some students there for their very first class ever, while some were old pros, competing in as many as four classes apiece on both violin and viola.
The Violin Padawans, a violin ensemble made up of six Twinkle Strings students, had been working on their piece Wintertime Waltz since December and was the youngest ensemble to perform.


The festival wrapped up with the Stars of the Festival concert and awards ceremony featuring eighteen outstanding performances by students who stood out during the competition. Twinkle Strings student Cecilia performed The Two Grenadiers. In addition to being asked to perform, Cecilia also won The Little String Orchestra 30th Anniversary trophy and a scholarship. Cecilia was not the only Twinkle Strings students honoured last night. Nate also received a scholarship for his performances at the Festival.


Congratulations Twinkle Strings Suzuki School students for another successful year at the Brantford Kiwanis Music Festival!